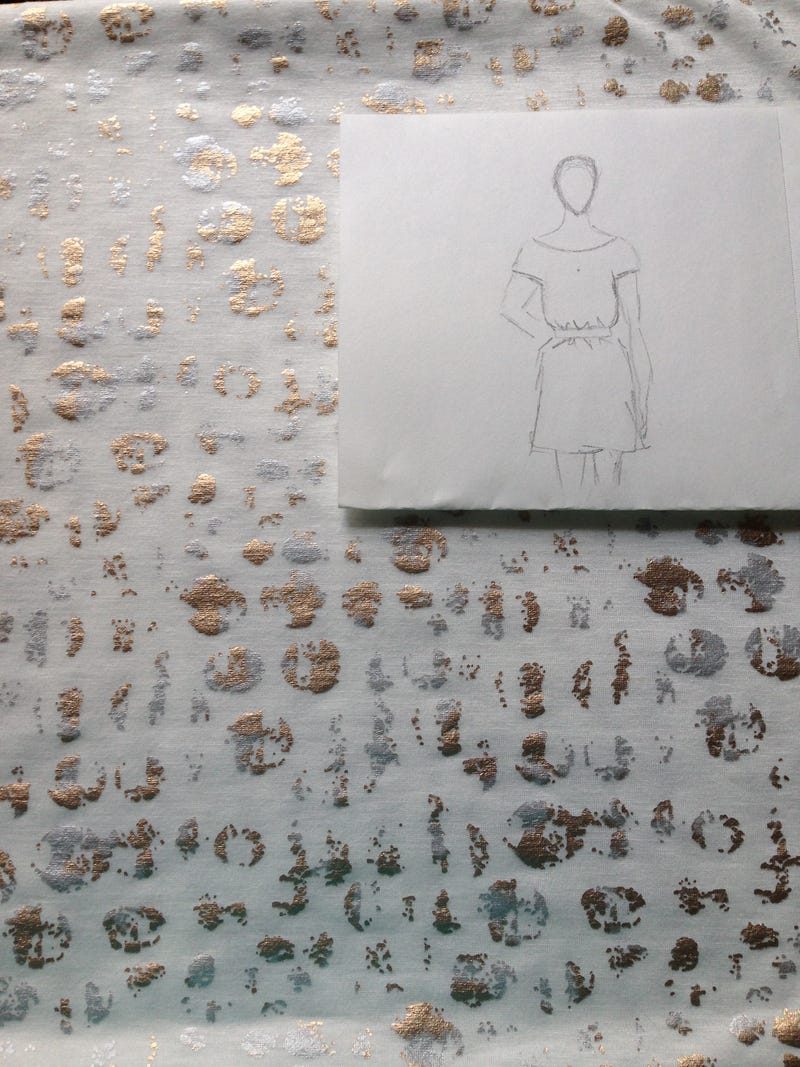 Isn't that fabric cool? I got it from Joann's; it's a slightly off white poly blend knit with some kind of silver and gold (silver and gold, everyone wishes for silver and gold... sorry, couldn't resist!) animal print (?) type print that's shiny! I'm waiting anxiously for my twin needle to come so I can get to sewing this. I'm just starting to get into sewing knits, I made a maxi dress last week that's perfectly passable, but I found that my machine's stretch stitches left something to be desired. Overall, though, sewing knits isn't hard, you just have to use the right tools.
I actually pre-washed the fabric like a good little crafter, by which I mean I dunked it into my hot bathwater before I got in, smooshed it around, rolled it in a towel, and laid it out to dry. Multitasking! I mean, it's hand wash only, how much more can a girl be expected to do? I also steamed the wrong side after it was dry because I was feeling super ambitious.
Anyway, you can see my sketch up there in the photo. Since I'm relatively new to knits I'm sticking to simple patterns for now (when did I become so responsible?). I'm thinking of doing it dolman style—separate sleeves are for the birds—with a boat neck and an elastic waist. I'm probably going to finish the neckline with a facing and top stitching, not sure about the sleeves yet. There're so many different ways to finish knit edges, I feel like I have a Threads with an article on it. Note to self: Dig that issue up. I want it to be above the knees and I'm going to put in pockets because of course. Here's the rub, I'm going to use a woven material for the pockets, what kind of needle should I use to sew through the knit and woven together, a ballpoint or sharp? Universal? My instincts say universal, but my instincts have been known to be wrong. Also, I should really think about lining it...
Any tips, tricks, or suggestions?
(Sorry for the low light in the pic!)